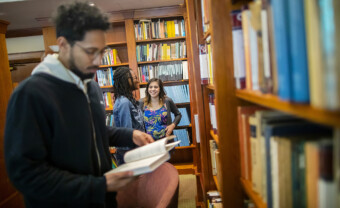 Certificates
The University of Pennsylvania has many certificate programs for currently matriculated students and several of them are relevant to careers in public health. With proper planning, MPH students have the option to add a certificate to their degree with the addition of one extra course. This is possible because the MPH program allows students to take up to three electives outside of the program.
Should I Add a Certificate to My MPH?
Adding a certificate may increase the total number of courses you need to complete both the Certificate and the MPH. Students should consider adding a Certificate only if that specialization will help them with their future careers. Decisions about adding a Certificate will be made after matriculation and in conjunction with your Academic Advisor, who can assess whether the addition makes sense.
Certificate Programs
Expand the items below to read more about each Certificate Program
The Certificate in Law gives professionals and students at the University of Pennsylvania an opportunity to immerse themselves in important legal topics and issues impacting the areas of their academic disciplines and future professions. The Certificate of Law requires one Foundational Class (LAWM 5110 U.S. Law and Legal Methods), plus three additional electives in the Master of Law or JD curriculum. MPH students can substitute in PUBH 5070 (Public Health Law and Ethics) for one of the three electives.
Read More Here
The Certificate in Health Care Innovation allows students to deepen their knowledge about the problems and challenges within the healthcare space. Students take four courses within the Master of Health Care Innovation curriculum.
Read More Here
The University of Pennsylvania Graduate Certificate in Interdisciplinary Studies in Global Human Rights provides students with an enriched perspective on the core international human rights documents, treaties, and mechanisms through cross-disciplinary and flexible coursework. The Certificate requires five approved electives from a long list of possibilities, including two courses offered within the MPH program – PUBH5250 (Health and Human Rights) and PUBH5510 (Global Health Policy and Delivery).
Read More Here
The LGBTQ Certificate provides supplemental content and skills to existing professional master's degrees at Penn with specialized courses and fieldwork addressing the legal, physical and mental health care, social service, and educational needs of LGBTQ communities and issues of gender and sexuality, more generally, across the lifespan. Students take 3 electives, participate in a non-credit pro-seminar, and ensure that their fieldwork is focused on the LGBTQ community.
Read More Here
The Graduate Nutrition Certificate will enable you to certify basic knowledge of nutrition science, training that will be valuable for your own health and lifestyle management. This training would augment the skills and insight that you will bring to professional roles or policy-development activities. The Certificate requires four courses.
Read More Here
This certificate program is available to qualified students currently enrolled in a Masters or PhD at the University of Pennsylvania who have acquired a body of knowledge that is key to improving the health and psychosocial outcomes for our aging population and want to gain a unique interdisciplinary perspective of cognitive aging and public health that will help you advance your academic and professional goals.
Read More Here