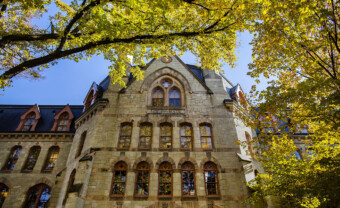 Admission Information
Interested in applying to the Penn MPH program? Please submit all application materials through the public health common application portal, SOPHAS. Applications are reviewed by the Penn MPH Admission Committee on a rolling basis and assessed holistically, considering applicants' coursework, transcript, references, personal statements, and previous public health or relevant experiences including jobs, fellowships, or internships.
Application Deadlines
The 2023 Admission Cycle is now open! The priority deadline for applications is February 1, 2023. Applicants who submit by the priority deadline are guaranteed a response by April 1, 2023. Our rolling admission policy encourages early submission of applications, but applicants can submit applications through April 15, 2023.
Required Application Materials
1. Verified SOPHAS Application:
Complete the SOPHAS application for the Penn MPH Program track of your choosing. The Admission Committee evaluates all tracks with the same criteria, so please apply under one track only. Matriculating students have the flexibility to finalize their track at a later time. Please note, this includes an application fee charged directly by SOPHAS, not the Penn MPH Program. For questions about a fee waiver, please reach out directly to SOPHAS support. Once SOPHAS verifies the application, the Admission Committee proceeds with review.
2. English Language Proficiency:
For applicants whose first language is not English or do not have a degree conferred by an English language institution, please submit a TOEFL or IELTS. The Admission Committee will only review applicants with a TOEFL score of 100+ or an IELTS score of 7.0+. The code for the TOEFL exam is 5688. Submit the IELTS as an additional SOPHAS document.
3. Transcripts:
Submit official transcripts of previously-completed degrees. For degrees conferred by non-US institutions, please also submit WES transcript evaluations.
4. Resume:
Submit an up-to-date resume or curriculum vitae.
5. Personal Statement:
Submit a brief personal statement that demonstrates an understanding of public health and explains the nature of your interest in the field. The statement should address how Penn's MPH program will prepare you for a successful career in public health.
6. Three Letters of Recommendation:
Submit at least three letters of recommendation from individuals who can attest to some combination of your suitability for graduate study, interest in public health, and/or goals for an MPH. These references will receive a request from SOPHAS to submit their recommendation directly.
The Penn MPH Program does not require the submission of standardized test scores, such as the GRE, MCAT, GMAT, LSAT, DMAT or any equivalent.
Admission Policies
The University of Pennsylvania MPH program is not STEM designated for OPT.
Applicants to the Master of Public Health Program who were not accepted cannot appeal the decision of the Admissions Committee. However, they can elect to reapply to the program no sooner than the following academic year. The application fee is waived for re-applicants who re-apply within five years of the previous application date, but please contact a member of the MPH team. Re-applicants are not required to submit transcripts or standardized test scores if the transcripts or scores have not changed.
The University of Pennsylvania values diversity and seeks talented students, faculty and staff from diverse backgrounds. The University of Pennsylvania does not discriminate on the basis of race, color, sex, sexual orientation, gender identity, religion, creed, national or ethnic origin, citizenship status, age, disability, veteran status or any other legally protected class status in the administration of its admissions, financial aid, educational or athletic programs, or other University-administered programs or in its employment practices. Questions or complaints regarding this policy should be directed to the Executive Director of the Office of Affirmative Action and Equal Opportunity Programs, Sansom Place East, 3600 Chestnut Street, Suite 228, Philadelphia, PA 19104-6106; or 215-898-6993 (Voice) or 215-898-7803 (TDD). Specific questions concerning the accommodation of students with disabilities should be directed to the Office of Student Disabilities Services located at the Learning Resources Center, 3820 Locust Walk, Harnwell College House, Suite 110, 215-573-9235 (voice) or 215-746-6320 (TDD).
Federal law, the Jeanne Clery Disclosure of Campus Security Policy and Campus Crime Statistics Act, requires all institutions of higher education to provide information on their security policies and procedures and specific statistics for criminal incidents and arrests on campus to students and employees, and to make the information and statistics available to prospective students and employees upon request. The Pennsylvania Uniform Crime Reporting Act requires Penn to provide information about its security policies and procedures to students, employees and applicants; to provide crime statistics to students and employees, and to make those statistics available to applicants and prospective employees upon request. You may request a paper copy of the report by calling the Office of the Vice President for Public Safety at 215-898-7515.
Penn 2022 Annual Security & Fire Safety Report