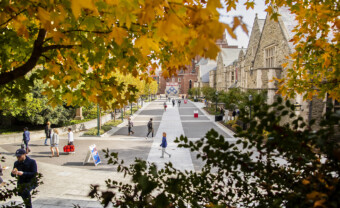 Financing Your Degree
Penn MPH students pay tuition and fees per Credit Unit rather than a flat rate per semester or year. Information on and an estimation of our tuition charges can be found below. From scholarships to federal or private loans to assistantships, there are a variety of ways to help finance your Penn MPH degree.
Financial Aid Support
To estimate the total cost of attendance for the Penn MPH program, including living, personal, and health insurance expenses beyond the cost of tuition and fees, students connect with Student Registration and Financial Services (SRFS). SRFS facilitates the graduate student loan process and can help answer questions about billing.
Tuition
Courseload
Tuition
General Fee
Technology Fee
Clinical Fee
Total Semester Cost

Courseload

1.0 CU

Tuition

$4654

General Fee

$456

Technology Fee

$182

Clinical Fee

$0

Total Semester Cost

$5292

Courseload

2.0 CU

Tuition

$9308

General Fee

$912

Technology Fee

$364

Clinical Fee

$0

Total Semester Cost

$10584

Courseload

3.0 CU

Tuition

$13962

General Fee

$1830

Technology Fee

$546

Clinical Fee

$332

Total Semester Cost

$16670

Courseload

4.0 CU

Tuition

$18616

General Fee

$1830

Technology Fee

$546

Clinical Fee

$332

Total Semester Cost

$21324
Tuition Assistance Statistics
$677kTuition Assistance Provided in 2022
25+Teaching Assistantships per Year
8+Graduate Assistantships per Year
Scholarship Support from the MPH Program
The MPH program provides several different opportunities for tuition assistance. All tuition assistance provided by the program involves waiving tuition per Credit Unit (CU). Associated fees cannot be waived per University policy. Both full-time and part-time students are eligible for all forms of tuition assistance awarded by the program, though scholarships cannot be used in tandem with the Penn Employee Tuition Benefit mentioned below. No additional essay or application is required to be considered for any scholarships from the MPH program.
Merit Scholarships are evaluated by the Admission Committee during the application process. Preference will be given to those who will increase the diversity of the public health workforce, including first generation learners. Potential awardees will be invited for an additional interview by the committee. These scholarships typically cover 4 to 10 CUs, or approximately $18,616 to $46,540.
Returning Peace Corps volunteers (RPCV) are eligible for a 7 CU tuition waiver (50% of tuition).
The MPH program awards up to 10 Public Health Practice Scholarships annually to incoming students who have at least two years of relevant work experience prior to matriculation and do not already possess an advanced degree (Masters or Doctoral). These scholarships will cover 3 CU tuition, or approximately $13,962.
The Whitney Ann Buckholz Scholarship will be awarded to an incoming MPH student who best represents the ideals of Whitney through extensive community engagement prior to graduate school. Whitney was an MPH alumna remembered as a strong, creative student. She embraced challenges, looking for ways to learn and contribute to the health of communities. This tuition scholarship is made possible by a legacy contribution from Whitney and her family.
Participants of Penn's Pipeline Plus Public Health summer internship program, who complete at least two years of the program, are eligible for a full tuition scholarship to Penn's MPH program.
Assistantship Positions from the MPH Program
The MPH program offers two kinds of assistantships: Graduate and Teaching. These assistantships have a separate application process shortly before the start of each semester that is available only to already-matriculated students.
Graduate Assistantship (GA) positions are available to students in any year of study. GAs work with one of the MPH core faculty on their public health projects (research or practice) and are compensated $2,500 per semester for 8-10 hours per week or $5,000 per semester for 16-20 hours per week. The hours per week depend on the faculty member's projects.
Teaching Assistantship (TA) positions are available to qualified students who have excelled in a particular course. First semester students are therefore ineligible to TA. TA positions offer a stipend of $3,000 per semester for approximately 10 hours per week of work to support the faculty teaching an MPH course.
University of Pennsylvania Employee Tuition Support
The tuition benefit for full-time University of Pennsylvania employees covers 100% of the tuition, general, and technology fees at Penn for up to 2 CUs per semester, 6 CUs per year (2 CUs per fall, spring, and summer semesters). Graduate tuition costs above $5,250 in a calendar year are considered taxable income. Newly hired faculty and staff are eligible to use the tuition benefit only after a six-month waiting period from date-of-hire. Under the university's revised policy, the end date of the waiting period is the staff member's tuition eligibility date. If the tuition eligibility date comes after the first day of classes for a term, faculty and staff cannot receive tuition benefits until the start of the following term.
Loan Information
US Citizens or eligible Non-Citizens may qualify for federal loan funding. You must be enrolled at least half time (2 CUs) each semester to receive federal loan funding. For all prospective students who are planning to apply for federal loans, please complete the Free Application for Federal Student Aid (FAFSA) using Penn's institutional code #003378.
MPH students are eligible for loans to cover the cost of tuition and estimated living expenses. This represents the maximum you can borrow, though students are always welcome to borrow less. If you receive scholarship funding, your loan may be reduced or returned. Students may not be eligible if they have borrowed for past programs and are at their aggregate loan limit or they are in default on previously borrowed student loans.
MPH students may qualify for a maximum of $33,000 in Federal Direct Loan, which is unsubsidized (interest begins at disbursement) and not credit checked.
Should students wish to borrow federal loans over the Federal Direct Loan amount to cover the remainder of tuition, fees, and living expenses, there is the Grad PLUS Loan, which is unsubsidized but credit checked.
External Opportunities for Tuition Support
External Research Assistantships and Internships
The MPH program facilitates the dissemination of opportunities for part-time research assistantships by faculty associated with the MPH program, as well as paid internships with various public health organizations. These are shared with current, matriculated students on an ad hoc basis and have a variety of compensation models.
Association of Schools and Programs of Public Health (ASPPH) & This is Public Health (TiPH) Scholarships
ASPPH & TiPH source and collate myriad scholarships for students. Scholarships are mostly tax-free financial awards given to students with the intention to pursue a specific area of study or research. They are usually awarded based on certain qualifying traits.
More Info Here
IELTS USA Andrea Scott International Graduate Scholarship
Admitted, Fall 2023 international applicants with a valid IELTS score are eligible for the Andrea Scott International Graduate Scholarship, an annual award of $5,000 and renewable for up to 3 years. Scholarship recipients will share Andrea's inspiring commitment to international education, her passion for globalization, creative arts, and equal rights initiatives.
More Info Here